After a five year roller coaster, time to start again.
Five years ago, I embarked on a crazy adventure to produce and direct my first feature film, and in the process found a calling and a purpose. I had studied political science and communication in France, but I was always obsessed with films and storytelling. I had no idea that I could make a film, having not been to film school. In France when I was growing up you had to become what you studied – no taking a chance on a crazy dream.
I did not know that a job existed where I could combine all those things: filmmaking, social change, and helping people. I came to the US a little bit lost. After internships at a social network in the tech world, then at a film production company, I started working as a journalist and made my own video interviews with Silicon Valley luminaries. That's when I realized, spending time in San Francisco where all kinds of ambitious people flocked, that I could create my own luck. (It was 2011… Believe it or not, SF was much cheaper and crazier then.)
The last 5 years, honestly, are kind of a blur. I met lifelong friends. I worked harder than I ever worked before, sometimes 20 hours in a day. I was sleeping on friends' couches, eating ramen (my roommates were seriously concerned about the amount of ramen I was eating), and diving head first with my co-founder Insiyah Saeed into the lives of the five young women entrepreneurs that we decided to follow, from San Francisco to Vietnam, New York, Mississippi, Berlin, Arizona… It was a whirlwind.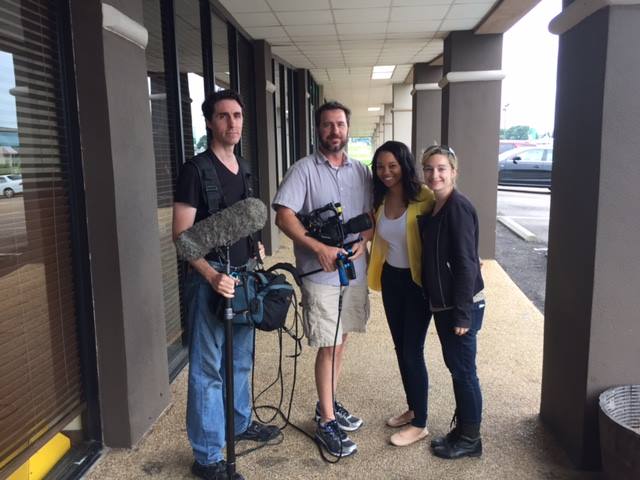 Filming Sheena Allen in Mississippi ! (Stay tuned for more about her.. that's part of my next project !:)
We did not have the budget to hire a full team, apart from our film crews around the world, so we did everything on our own. I realized that despite wanting to remain an observer of the startup scene, a fly on the wall, we had become entrepreneurs ourselves.
Now looking back, I consider the last five years as a blessing, when I was unaware and non jaded, and also a curse because it's so hard now to move on from that kind of experience and try to rebuild an identity outside of that. Who am I outside of the "She Started It" movie ? Can I do it again ? Can I create another successful project in different circumstances and start on my own ? Can I create a new life in New York, where I recently moved, without my old friends and family ? Or was it all just a dream .. What am I chasing here in New York, why did I move again, and most of all,  why can I not sit still for a second ?
The glamour (TedX talk in Barcelona) versus the every day life.. in transit, hungry and tired, during the She Started It Screening Tour !
Despite my intense energy levels, I spend some days completely paralyzed at the idea of starting something new, and putting myself out there with another project. Wondering if I have the strength to go back out there, to try to get closer to that filmmaking dream, to fundraise, to bury myself into someone else's story, to give it my all again. As a dreamer and an idealist, I have a hard time grappling with the real world sometimes (which is ironic as a documentary maker) and would much prefer to imagine the world that I want and live in that imaginary place.
But then I realize and remember that I'm extremely privileged, as a white woman in this world, and a French citizen, with a healthy, supportive and generous family. That's why when I get discouraged and jaded I am reminded of my mission, which is to lift people up and help tell the stories of people who don't have that privilege and whose stories deserve to be told. I think of Thuy Truong, one of the young woman from our film, who is now fighting her own battle with cancer and working on a non-profit to help cancer patients in Vietnam. Her courage inspires me every day. I could just give up, go home and find a regular job. Or I could try to keep telling those stories and create the world I want to live in, little by little.
This blog is my attempt at sharing those experiences and also find the courage to begin again. My dad actually came up with the idea for the name. In France, there is a saying which goes like this: " "vivre d'amour et d'eau fraîche", which means someone is sustaining themselves with love and water, which is an ironic way of saying that lovers don't need anything but love. My dad laughed that I basically have been surviving thanks to friendship and ramen. As an entrepreneur, my friends are everything: they have been feeding me and letting me sleep on their couches and giving me the courage to do it all.  I try my best to give it all back. So who needs love? I'm all about friendship and ramen.
Room full of amazing friends and supporters at the Mill Valley Film Festival for our Premiere! And some of the team and cast.. filmmaking is a collaborative medium, and it took a village (seriously hundreds of people and some very dedicated producers ! )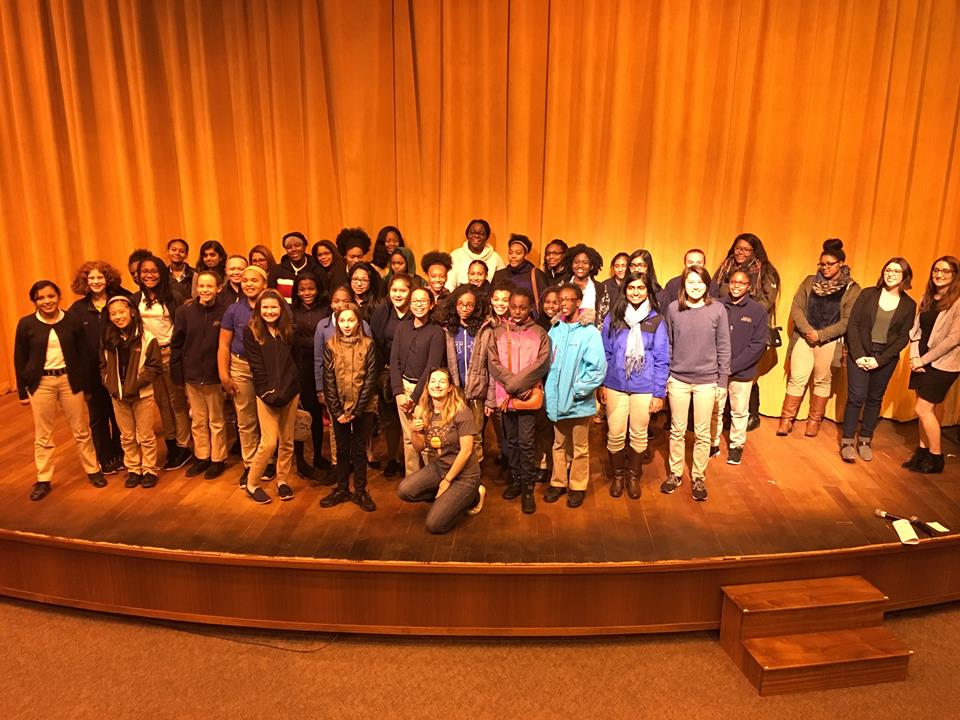 With the ESUMS Magnet School in Connecticut. This photo sums up why I still do this !