Season 2 of the "Creative Distribution 101" podcast is back featuring acclaimed filmmakers and experts.
This episode features Adele Free Pham an activist and filmmaker whose work has appeared in over 20 film festivals, on HBO, PBS, and The Smithsonian. Her feature documentary called Nailed It, about the genesis and culture of the Vietnamese nail industry, premiered on PBS in May 2019 and is the highest streamed film of the documentary series "America Reframed". Adele is also a Firelight Media Documentary Lab Fellow.
Nailed It will have a PBS Encore Broadcast tonight, on May 26, 2020 @ 9/8c!
In this episode, Adele candidly talks about distribution challenges and shares her experience with Nailed It. Check out the episode below and let me know your thoughts in the comments or on Twitter (@norapoggi) !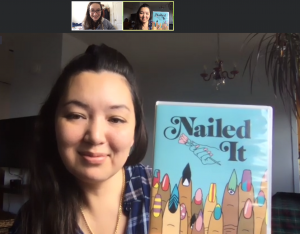 Or stream in-browser here:

Show Excerpts:
A broadcast really helped since more people could see the film. But I am still waiting for a streaming deal. PBS helped a lot because they own part of the film so they want to do a lot with it.
The way you would market to a NYT audience is very different from how you would market it to the mail salon audience.
We built pop-up salons in tandem with a screening at festivals. Interesting way to sink into somebody's psyche. And it's free so people want it! All the festivals wanted it, we got sponsorship through a company to pay for the educator and products, it was branded with the company. But it was not sustainable. We needed to have a dialogue in this pop-up format so people understand where we come from.
In times of Covid-19, I'm having to go back to the drawing board in terms of academic screenings.
The Asian associations have a lot of interest in this film and that's how I reached out to a lot of universities, also Asian studies departments, multicultural studies departments. You can also dig into what kind of endowments these schools have. It's not easy but it's a smart route for indie filmmakers as you're also growing your audience and you can become an expert and a speaker. You can stack screenings in parts of the country strategically.
I reached out to a filmmaker friend more connected to the academic world. I didn't have funding for that so just think strategically. I paid her a % of bookings we made  – but it wasn't enough. Third world newsreel is my academic distributor. All universities now want to get streaming. Those dvd sales are dropping.
Having a team was the hardest, finding funding for a team. Post-COVID I hope there will be more coalition-building between filmmakers. Like Newday, a model like I work on your campaign and you work on mine. I like to share information.
I was trying to have a sponsor that's responsible and transparent about what's in their products, but the beauty industry is not there yet.
The University of Pittsburgh where we did a screening – a group of academics who brought it there are now working on a study guide and a program around it. That's something I wanted to do that I didn't have the resources for. You don't know how your screening is able to touch someone and what they will do with it.
Young Vietnamese people are really moved by the film. This was a way for me to preserve my culture and my identity. Having a refugee parent is a trip,  a lot of the trauma you experience through them. That's why it was important for me to do. It gives other people leeway to express themselves.
Document your own family history and see where it goes!